PAL ANCHORING WEDGE CLAMPS
Item No.: 314
Functions:
INQUIRY
Description
Application:
It is used to fix the line at the end bracket, suitable for the type 2 self-supporting insulated wire which is complied with national standards.

Features:
1) Body is casted of corrosion resistant aluminuim alloy with high mechanical strength.
2) Bail is made of stainless steel.
3) Wedges are made of weather resistant material.
4) Standard: NFC33-041 EN50483-3.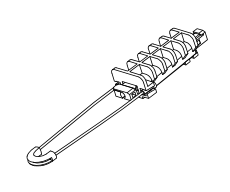 | | | | |
| --- | --- | --- | --- |
| Item No. | Cross section (mm2) | Conductor(mm) | Breaking load |
| PAL-500 | 16-35 | 8-11 | 6KN |
| PAL-1000 | 25-35 | 8-11 | 10KN |
| PAL-1500 | 35-70 | 10-14 | 15KN |
| PAL-1500 | 50-70 | 12-14 | 15KN |
| PAL-2000 | 70-95 | 14-16 | 15KN |
| PAL-2500 | 120-150 | 16-20 | 20KN |


PA25 Anchoring wedge clampDead end anchor clamp UV protect dead end clamp PAL Anchoing Wedge Clamps PAE-25B Achoring Wedge Clamp PAA Achoring Wedge Clamp Professional Anchoring Clamp For Fiber Cable PAC Anchoring Branch Clamp PA Anchoring Branch Clamp PAE Series Anchoring Wedge Clamp PAD-25 Series Anchoring Wedge Clamp JBG-1 Anchoring Wedge Clamps PAA-35 Anchoring wedge clamp