Description
Applicaiton:
Hang the self-supporting insulated wire on the bracket with maximum angle of 90 degrees.

Features:
1) The clamp complete the transformation between anchoring clamps and supporting clamps by adjusting bolt.
2) The surface is special which can guarantee fastness, skid resistance and insulation
3) The body materials are UV-resistant.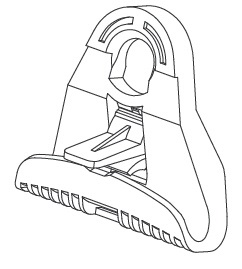 | | | | |
| --- | --- | --- | --- |
| Item No. | Cross section (mm2) | Conductor (mm) | Breaking load |
| NUPS54 | 25-95 | 7.5-15.5 | 12KN |
Brace clamp E895 Supporting Clamp for No.8 Fiber Cable E768 Supporting Clamp for No.8 Fiber Cable E648 Supporting Clamp for No.8 Fiber Cable Suspension Clamp For Self Supporting Bundle 95C Anchoring Wedge Clamp PT-1 Suspension Clamp For Self Supporting Bundle Brace Clamp For Insulated Overhead Conductor LM Brace Clamp PSP Brace Clamp Wall Fitting for self support insulated wire PTB-1 Brace clamps PTB-2 Brace clamps