Insulated Piercing Connector
CPB SERIES INSULATION PIERCING CONNECTOR
Item No.: 202
Features:
1)It is featuring a unique insulation technique.
2)Connections can be made live in minutes and suitable for aluminum or Copper, the body materials are UV-resistant.
INQUIRY
Description
Advantage:
1).CPB Series Insulation Piercing Connector Pass 6kv test under water for 1min.
2).As the branch anywhere in the cable.
3).Simple installation, small contact resistance and low temperature rise of the clamp.
4).Its self-seam frame is wet proof, water proof, and anti-corrosive, which can prolong the using life of insulated lead and connector.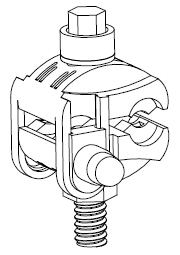 | | | | |
| --- | --- | --- | --- |
| Item No. | Main wire section | Branch wire section | Bolt |
| CPB25-25 | 10-25 | 10-25 | 1 |
| CPB25-70 | 16-70 | 4-25 | 1 |
| CPB70-70 | 16-70 | 16-70 | 1 |
| CPB95-95 | 16-95 | 16-95 | 1 |
Insulated piercing connector TTD insulation piercing connector CPC series insulation piercing connector NU series insulation piercing connector JBC series insulation piercing connector