PAA-235& PAA-35 Anchoring wedge clamp
INQUIRY
Description
Application:
These anchoring clamps are used to push, pull and fix the self-supporting insulated cable. These fiber laying alone the overhead power lines, electric transmission line (illuminating circuits, urban traffic electric network or the building whose space is less than 100m.
Features:
1) It is made of aluminum alloy, galvanized steel and UV-resistant polymeric material.
2) No special tools are required.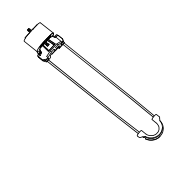 | | | | | |
| --- | --- | --- | --- | --- |
| Item No. | Cross section(mm²) | Material | Conductor(mm) | Breaking load |
| PAA-235 | 16-25 | Nylon,Steel | 3-6 | 3KN |
| PAA-35 | 16-35 | Nylon,Steel | 3-7 | 5KN |
Dead end anchor clamp JBG-1 Anchoring Wedge Clamps PAL Anchoing Wedge Clamps PAE-25B Achoring Wedge Clamp PAA Achoring Wedge Clamp Professional Anchoring Clamp For Fiber Cable PAL Anchoring Wedge Clamp PAC Anchoring Branch Clamp PA Anchoring Branch Clamp PAE Series Anchoring Wedge Clamp PAD-25 Series Anchoring Wedge Clamp UV protect dead end clamp PA25 Anchoring wedge clamp